11th Season
Love! Valour! Compassion!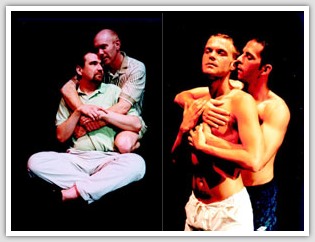 Written by: Terrence McNally
Directed by: Rand Martin
In Love! Valour! Compassion! eight male friends, all of them gay, leave the city behind for three simple weekends of rest and relaxation. But that's the least of what they experience.
The friends gather in a sprawling, airy Victorian house set on a private lake. The perfect idyll for easy days spent sunbathing and swimming. The house is owned by Gregory, a quiet but brilliant forty-something choreographer who is struggling with an aging body. But, here in this place in the woods, Gregory finds respite from his fears and concerns.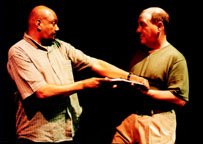 One by one Gregory's circle of friends arrive for the weekend, ready to unload their own worries and anxieties. There is Gregory's much younger, blind lover and there is Arthur and Perry, an accountant and lawyer who have been a couple for more than a decade. "We're role models," Perry proclaims. "It's very stressful."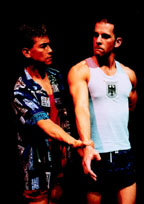 Then there is John, the overbearing, angry English composer whose arrival almost everyone is dreading. With John comes his latest lover Ramon, a hot, young dancer with a perfect body. Finally, there is Buzz, who lives for old Broadway musicals and swears he will fine anyone who even mentions the word AIDS this summer although it is something that cannot be far from his thoughts. For now, the biggest nightmare he'll admit to is "a revival of 'The King and I' with Tommy Tune and Elaine Strich."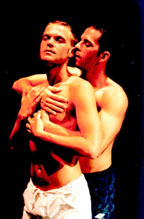 Later, the group is also joined by James (John Glover), John's identical twin who is his mirror image but his exact opposite in every other conceivable way. Where John is a misanthrope, James is unfailingly generous of spirit. Where John sneers, James celebrates.
Over the next three summer holiday weekends Memorial Day, Fourth of July and Labor Day these eight friends will fall in love and fall from grace, they will hurt one another and forgive one another. They will form couples and break apart, they will celebrate strengths and give in to weaknesses, they will play jokes on each other and give a shoulder to each other. They will form an assortment of hilarious, bewildering and inspiring permutations on contemporary relationships. They will even don tu-tus, for a very good cause. Sparks will fly and bonds will be sealed.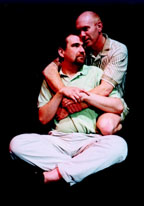 But no one will emerge from these three weekends in the country the same. No one will leave without taking a humbling, surprising reminder of just how funny and heroic love is and how wondrous the human spirit can be.
The New York Times said, "...It's a big, generous, haunted comedy... Both very funny and filled with intimations of time's passage, of loss and death."
This play is not to be missed!
June 16, 17, 23, 24, 30 & July 1 at 8:00 p.m
the 24th Street Theatre, 2791 24th St, Sacramento
< back