12th Season
Beautiful Thing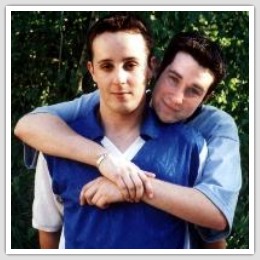 Written by: Jonathan Harvey
Directed by: Marsha Swayze
Lambda Players present Sacramento premiere of Beautiful Thing. After making its stage debut in the early 1990s, Beautiful Thing garnered a number of awards, was made into a movie and became one of the most widely sought after plays for gay and lesbian theater companies. But the film version of this story about two working-class teenage boys discovering their sexuality and each other brought home to millions a tale that would become like Cinderella for straight children. Spawning a following that would run strong years afterward with fan web sites, web rings, fan fiction, fan clubs, mailing lists and pilgrimages to productions, Beautiful Thing is no ordinary coming out play.
Hailed by critics as a "lighthearted comedy" and "an urban fairy tale," director Marsha Swayze and her cast were surprised to find the play was more intense than they initially thought. "It's more than the show we thought we were going to do," says Swayze. "When I first read the script and saw the movie I thought it was a simple love story. Then as we started rehearsing we discovered there is an underlying emotional depth that's not at first apparent. While we want to be as authentic as possible to the British setting and the author's vision, we can't erase the fact that in the U.S. we have a different way of looking at things and so does our audience. If we attempted to gloss over the more serious parts of the production, the magic that this play holds just wouldn't work."
The cast is lead by local actors Jonathan Charron as Jamie and Jake Mickelson as Ste. The two are joined by Linda Jarrett as Sandra, Jamie's mother who spends her nights trying to make life better for her family of two by working nights as hostess of a local pub. Rounding out the cast is Amber Lee as Leah, the troublesome girl next door and Mama Cass addict, and Victor Saldaña as Tony, Sandra's neo-hippie beau.
"This is the first Lambda production that any of the cast members have worked on," says Swayze. "It's a delight working with all these fresh new faces and watching this production come alive. I've wanted to do Beautiful Thing for the past three years; to finally have a romantic coming out story that is fresh, innovative, charming and touching all in one. This is a story everyone is going to fall in love with."
Award winning British playwright Jonathan Harvey, hailed as "the new theatrical voice of his generation," acknowledges that among his generation "the theater is not very sexy nor very exciting." But in Beautiful Thing, Harvey pulls out all the stops in telling this urban fairy tale, filled with laughter, tears, love, hope and best of all - a happy ending.
Beautiful Thing opens June 15 and plays Fridays and Saturdays at 8 p.m. through June 30 at the 24th Street Theatre, 2791 24th St., Sacramento. The June 30th performance will be sign language interpreted by Stage Signs. Tickets are $10 in advance; $12 at the door. Tickets are available at the Open Book, 910 21st St. Reservation Line: 484-XXXX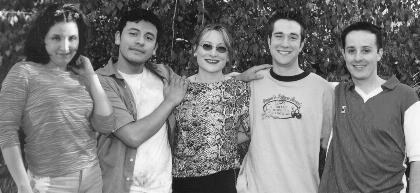 < back