12th Season
Opening Lines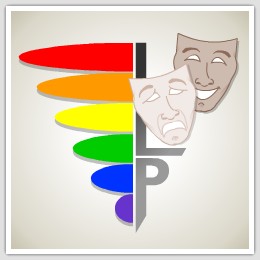 Written by: Tom Swanner
Directed by: Michael Coleman
Blind dates never go right. There's even television shows devoted to this usually miserable experience. And that's what makes them so bittersweet to watch. But sometimes things do go right, and that's when things get really funny.
Just such a scenario is the focus of Lambda Players' new romantic comedy Opening Lines by Sacramento playwright Tom Swanner. Making its premiere with the Players, the story revolves around the characters of Chris, a waiter/actor and Richard, the host of a morning-drive radio show ("KRAM: If you're not listening to us, then you ain't got Dick").
Brought together on the blind date by their best friends, they face the daunting prospects of dating, love and finally moving in together. If they can survive the first date, having their best friends meet, a surprise visit by Chris' parents and a misplaced – "Oh my God, that is the ugliest couch I have ever seen!" couch – maybe their relationship stands a chance.
Opening Lines will be directed by Elly award-winning Director Michael Coleman, who has been a force in Sacramento Theatre for the past 14 years as an actor, director and costumer.
"This is one of the funniest plays I have ever worked on," said Coleman, "These are characters that you are going to fall in love with. They are warm and funny and very human. When the combination of script and cast are as strong as they are in this production, it is a joy to be involved. This show is going to blow audiences away."
Opening Lines is playwright Swanner's first full length play. Returning to Sacramento from a career in L.A. doing commercials, television, films and work with the L.A. Repertory Theater Company he is excited about having his comedy produced by the Lambda Players.
"First plays are exciting." he said, "I had these characters and ideas and funny scenes rolling around in my head, they practically leapt onto the page as I was writing. It is thrilling to watch them come to life." Bringing them to life are David Borad as Chris, the somewhat neurotic waiter who only wants in life what his parents had – a long and loving relationship, and Todd Blum as his blind date Richard. Tired of life in the fast lane, Richard is ready for a more romantic approach to life, and maybe to settle down.
Proving that opposites do attract, their best friends Diane (Cynthia Davis) and Louis (JG Gonsalves) finally meet in what can best be described as a Mad Hatters Coffee Party. And in what may be the funniest twist on coming out, support groups and wet dreams ever, Penny Knobloch as Rose and Harvey Farr as Jack, shine as Chris's parents.
< back