13th Season
Lesbian Laughfest 4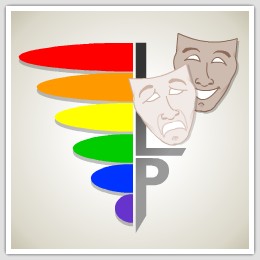 Hosted by Maureen Gaynor & Sequieta Whitfield
It's time for the annual night of Lesbian Laughs, as the Lambda Players bring to the stage Lesbian Laughfest 4.

Hosting this year's Laughfest will be popular Sacramento stand-up comics Maureen Gaynor and Sequita Whitfield. Whitfield and Gaynor have proven to be an engaging duo and have emceed all three of the previous Laughfests as well as taking their own turn in the stand-up spotlight.
"We're very happy to be bringing some of the talent back from last years show," said Whitfield. "Pam Peters and Jennifer Griffin absolutely had everyone in tears from laughing so hard last year, including me! We are so happy that they are coming back this year and I can't wait to work with them again." "Were going for a slightly changed format this year," said Gaynor "along with stand up comedy and music we are going to introduce some skit comedy and [name removed] and Charlene Tapia are working on some scenes that are going to bring the house down. And we have a couple of surprise guests that are going to - well, it's a surprise!"
Returning from last years outing are Carol Miranda and Kathy Morrison, whose sultry singing brought a bit of romance to the Laughfest. "Kathy and Carol, along with piano accompanist William Hedge, were a big hit last year, and were very pleased to have them back," said Whitfield.
They will be joined by newcomer to the Laughfest this year, Christine Hooten, who just completed a wildly successful run in The Ritz as the chanteuse Googie Gomez. "Christine was hysterically funny in The Ritz," said Gaynor, "but her talent as a singer was hidden. We're very happy to be able to bring that talent to the stage. She is going to amaze you."
The Laughfest is for one night only, Saturday, May 11. It will be held at the 24th Street Theater, 2791 24 St., south of Broadway between 3rd and 4th Aves. Showtime is 8p.m. and the box office opens at 7p.m. Tickets are only $12 and can be purchased in advance at the Open Book, 910 21st Street. Reservations can be made by calling 916-484-XXXX
< back