13th Season
Nine-Eleven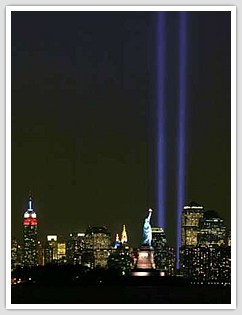 Written by: Matthew Burlingame
Directed by: Matthew Burlingame
"I never intended to write about this," says Matthew Burlingame about his newest play Nine-Eleven. It started as an assignment for a playwrighting class and somehow mushroomed into what it is now. What it is now is a full-length comedy-drama play about seven diverse-minded college students and their ultra-conservative, right-wing instructor facing life before and after the events of September 11, 2001.
Burlingame, a multi award-winning journalist with a long list of credits under his belt, could easily be considered one of Sacramento's hottest artistic commodities. Having left a two-year position at Sacramento News and Review as a theatre critic, Burlingame set out to test the waters with two of his plays: Paperclip Messiah, a psychological love story set in a Catholic Parish, and the profoundly moving Nine-Eleven. Both were instant successes with test-audiences and critics alike.
"I wasn't sure if audiences would be ready for Nine-Eleven," says Burlingame. "It doesn't deal with the events in a sensationalistic way, it is set in a community college where a group of people, some affected directly, others indirectly, have to reexamine themselves, their beliefs and what their roles are in this new world in which we live." But don't expect to spend the entire evening with tissues in hand; there are as many laughs as there might be tears. Burlingame paints a well-balanced canvas as the characters explore, evolve, grow and learn to continue living.
"Everyone will be able to identify with some character, or even some aspects of all the characters," says Burlingame. Don't expect to get preached at or see anyone to get on their soapbox. "These characters are just like us, going through real emotions and not really sure what's coming next," he explains. The play is a reflection of Americans and the diversity of feelings we were, and are, all going through.
Nine-Eleven is one of the first full-length theatrical productions dealing with aspects of the Nine-Eleven event. It captures a moment in time when we became one nation and reflects the reality of what we, as both a country and as individuals, were feeling at that time. Nine-Eleven is a piece of history in the making and Sacramento will always be remembered as its birthplace.
Cast:
Nephi - Jonathan Charron (Beautiful Thing, Paperclip Messiah Reading)
Sarah - ?
Bob - Paj Crank
Mitzi - Erin Herscowitz (Greg's Big Adventure)
Theresa - Theresa Vann (Play readings, Greg's Big Adventure)
Chriss - Trina Palmer
Dustin - Daniel Featherston (Paperclip Messiah Reading)
Mordecai - West Ramsey (Lambda Players)

April 12 - May 4, 2002
Friday & Saturday nights, 8 p.m.
Wm. J. Geery Theater, 2130 L Street, Sacramento
< back