13th Season
The Ritz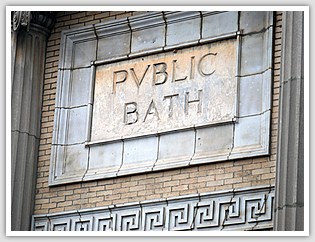 Written by: Terrence McNally
Directed by: Rand Martin
A long time ago...but not so far away...there was a place called "the baths". A place known for fun and frolic, madcap hijinks, witty repartee, gangsters and garbage men. Wait a minute! Gangsters and garbage men?! Only in Terrence McNally's The Ritz, a rambunctious and hilarious farce set in a 1970s bathhouse being presented by The Lambda Players. With hunky detectives, ersatz Andrew Sisters, chubby chasers, steam rooms, men in towels and the incomparable chanteuse Googie Gomez, The Ritz is sure to find your funny bone and give it a good tickling.
Originally produced on Broadway in 1975, The Ritz helped to build playwright Terrence McNally's reputation as one of America's greatest playwrights. An especially daunting task since McNally has always lived his life as an openly gay man. His list of plays is extensive and includes Frankie and Johnny at the Claire de Lune, Andre's Mother, Lips Together, Teeth Apart (which had the distinction of being banned in Cobb County Georgia), the book for the musical Kiss of the Spider Woman (for which he won the 1993 Tony Award for Best Book of a Musical), Love! Valour! Compassion!, Master Class, The Lisbon Traviata and the controversial Corpus Christi. He has received four Tony Awards, a Pulitzer Prize, and two Guggenheim Fellowships.
The Ritz is directed by Rand Martin, whose directing credits include Torch Song Trilogy and Love! Valour! Compassion! for the Lambda Players and Best Director Elly Award winning productions of Candide and My Fair Lady for Davis Musical Theater Company. "The Ritz was the earliest Broadway show that dealt with gay characters in an upbeat and in many ways positive manner," said Martin. "The brilliance in McNally's writing is the way in which he maintained a certain degree of innocence while setting the play in a gay bath house."
Starring in the Ritz is veteran Sacramento actor Bob Delucia as Gaetano Proclo, the hapless Cleveland Garbage Man who is thrown into a world of chaos when his wife's dying Mafiosi father puts a deathbed "hit" on him. Fleeing from his brother-in-law Carmine, he mistakenly takes refuge in The Ritz, where he tries to hide among the bathhouse regulars but somehow manages to become the center of every situation.
Delucia is well known in the world of stage comedy, having won several Elly Awards for his work. Prior productions for the Lambda Players include the dual role of John and James Jeckyll In Love! Valour! Compassion! and as Harry Mitchell in The Sum of Us for which he was nominated for an Elly Award for Best Actor in a Drama. His nemesis, the mobster Carmine, is played by Bill Zarriello who was last seen as Dr. Mendel in Lambda's production of Falsettos.
March 22 - April 6, 2002
Friday & Saturday nights, 8 p.m.
24th Street Theater, 2791 24th St, Sacramento
< back