13th Season
The Well of Horniness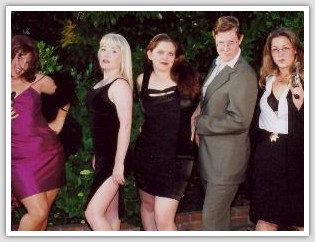 Written by: Holly Hughes
Directed by: Marsha Swayze
Finally, the story they said couldn't be told shatters the stodgy world of theater as Holly Hughes' The Well of Horniness makes it's Sacramento premiere. Breaking up the summer doldrums, The Well of Horniness promises high-spirited, lowbrow lesbian humor – and who couldn't use a good dose of that!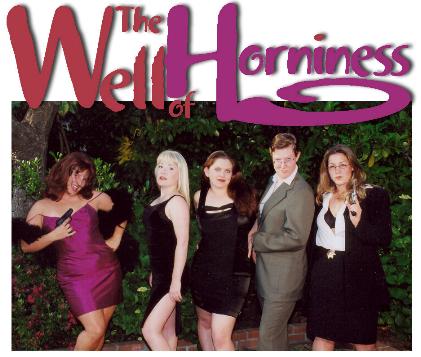 Cunningly disguised as a murder mystery and set on the sound stage of a 1940's radio soap opera The Well of Horniness is part camp and all silliness. It tells the story of an innocent young woman named Vicki who escapes from an evil lesbian sorority called the Tri Delta Tribads by hooking up with Rod, a carpet salesman about as dumb as the shag he sells. But when Rod introduces Vicki to his Sister Georgette at an innocent, but sexually charged dinner, Vicki falls for Georgette, who is mysteriously murdered. Fearing she will be blamed for the murder, Vicki goes on the lam, sweeping a glamorous lady detective, a crusty cop and a nefarious bar-girl into the plot.
"This show is pure fun" said director Marsha Swayze, "As Holly says, it utterly lacks any socially redeeming value. Well, unless you consider 12 gorgeous and very funny gals giving the performance of their lives as socially redeeming."
"Holly's humor is wickedly funny, especially and appropriately when performed," said Swayze, who's directing credits for the Lambda Players include Beautiful Thing, Standing in the Shadows and another Hughes play, Clit Notes. "Holly doesn't do nuance, she puts it all right out there in front of you and thanks to this fabulous cast, the laughs are fast and furious."
The Well of Horniness plays Fridays and Saturdays at 8p.m. June 21 through July 6 at the 24th Street theater, located at 2791 24th Street, Sacramento. Tickets are only $12 and can be purchased in advance at The Open Book, 910 21st Street, or at the door the evening of performances. Reservations can be made by calling 916-484-XXXX or at www.lambdaplayers.com.
< back