14th Season
Real Girls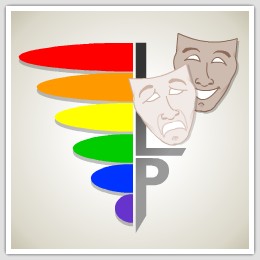 Written by: Robin Greenspan and Lacie Harmon
Directed by: Julie Briggs
Real Girls is a painfully funny love story, which asks the question "What do you do when true love comes and you're already in a relationship?" It consists of the performers telling true stories about their lives, spanning subjects as varied as Greenspan's coming out of the closet to her mother in the parking lot of a Chinese Restaurant to Harmon's body-doubling for Meryl Streep. Meg Donovan of "Nitelife Magazine" says about the show, "A terrific evening spent with two of the swellest girls in town. Truthful, funny, touching and entertaining." Author/critic Ed Karvoski says of Greenspan, "Defying her petite size, Greenspan is a powerhouse on stage." Harmon recently took awards at the Houston and Toronto International Film Festivals for her starring role in William Chartoff's "Colored Balloons." Greenspan's music CD, "Gardener of Eden" (featuring music from Real Girls) and her comedy CD "Totally Naked" have recently been released.
After playing to sold-out Los Angeles audiences over the course of a 7-week run in 2001, writer/comediennes Robin Greenspan (Comedy Central's "Out There in Hollywood", Showtime's "In Through the Out Door") and Lacie Harmon (HBO's "Arliss", Nickelodeon's "Kenan and Kel") now bring their stage show, Real Girls, directed by Julie Briggs, to the 24th Street Theatre in Sacramento on Friday August 2nd and Saturday August 3rd, at 8p.m.
Greenspan and Harmon, real-life lovers, developed elements of the autobiographical show at venues across the country and then performed the show in 1999, and it immediately elicited glowing responses from audiences. "Although we're telling stories about ourselves, this show is speaking to all kinds of people," says Greenspan. "We're getting down to the truth; the personal, vulnerable, even the embarrassing. Everyone recognizes what's true." Due to popular demand, Real Girls was presented in Los Angeles for a second successful run in 2001.
Friday, August 2nd and Saturday, August 3rd at 8:00 p.m
the 24th Street Theatre, 2791 24th St, Sacramento
< back