19th Season
Angels in America: Millennium Approaches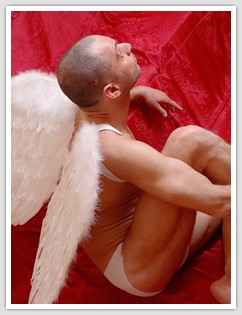 Photo © Marco Zilli | Dreamstime.com
Written by Tony Kushner
Directed by: Brian Rivera
With a mad swirl of irony, intense drama, outrageous humor, and unexpected twists and turns, Tony Kushner's Pulitzer-winning Angels in America is sure to hold your attention - particularly if you recall the Ronald Reagan years. Featuring a delirious AIDS patient and a an ex-drag queen nurse who employs skill, cynical wit and tough love to keep him alive, Angels is a seemingly apocalyptic yet comic and hopeful meditation on faith, morality, love and sex.
"Angels in America is one of the best community theatre productions in recent memory"
Jim Carnes, The Sacramento Bee

"A worthy production…catch it while you can"
Jeff Hudson, Sacramento News & Review

"Brilliant"
Charlie Peer, Outword Magazine
8 PM every Friday and Saturday
from January 11th through February 16th.
Special Benefit Matinee
February 3, 2008 at 2:00 p.m.