19th Season
Burnt Fields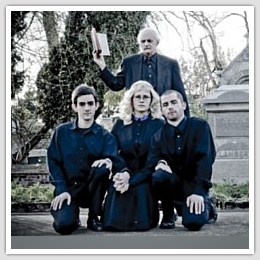 Photo © Kiny McCarrick
Written by: Jimmy Cliff George and Kurt G. VanDover
Musical Direction by: Mark Hoffman
Directed by: Brian Rivera
Come experience the magic of Mississippi, the deep south...

Down a lonely stretch of road in the middle of the woods...a small town just past the turn-of-the-century; its inhabitants haunted by memories of days gone by and lost in time. Love, hate, greed, honor, jealousy, humiliation. The fortune-teller, the preacher, the piano teacher, the young doctor, the widow, the flapper, the captain, the outcast, the righteous...angels, devils, ghosts...and three young lovers whose lives, losses, hopes, tragedies and dreams set into motion a chain of events that haunts the town's inhabitants forever. Bigotry, friendship, prejudice, revenge...good versus evil. The cemetery, a church house, a motorcar, a medal...long hot nights, forbidden loves, family secrets, haunting melodies, rousing hymns, hell fire and damnation...welcome to Burnt Fields.

Burnt Fields...a hypnotic and tender lesson for life.
Jimmy Cliff George: Jimmy was born in Fulton Mississippi on July 17, 1956. He was a composer, playwright and artist enthralled with the poetic language of the south. Jimmy worked for the Itawamba County Arts Council and was a regular attendee of the Burntfields Church. He won a Red Lamp Award for poetry in 1982 and studied at the Memphis College of Art before arriving in Sacramento in the late 80s. Jimmy's paintings were featured in Sacramento art galleries shortly after he arrived here and he went on to make his living working for art galleries in San Francisco and Mill Valley. Jimmy returned to Itawamba County to live prior to his death… he passed away on August 30, 1994.
Kurt Gregory VanDover: Kurt was born in New Jersey, his father was in the army and he spent time in Germany and London during part of his childhood. Although he spent some time in Sacramento and attended high school here, he spent time living in Texas, New Mexico, and Colorado and has been back in Sacramento for about ten years. Kurt has been involved in theatre off and on since he was in kindergarten. Kurt is a multi-talented artist who draws, paints, writes, designs sets and dabbles in music. He currently works for a local non-profit agency and has been the Technical Director for the Lambda Players for the past three years.
The cemetery serves as the lead character in the play and the souls that inhabit it are its supporting players. The play is set in the fictionalized small town of Burnt Fields, Mississippi; a dot on a map off an old country road located between the small towns of Fairview and Sandy Springs (9 miles NE of Fulton). Whether a town truly existed at this location is still speculation but a church and a cemetery exist there to this day, with tombstones dating back to the 1800s.
Burnt Fields began as a series of monologues written by Jimmy; the voices of an assortment of characters from the south that had no connection to each other, except that their lives were affected by significant events.
Jimmy and Kurt collaborated to bring the characters together by intertwining the stories of their lives and creating a tapestry of life in a small town. They developed further history of the characters and their relationships to each other as well as collaborated on much of the dialogue. The first version of the play was performed a little over 16 years ago at the Sacramento Metropolitan Community Church on Broadway after receiving a new works award grant through the Sacramento Metropolitan Arts Commission, ranking third out of 63 applicants. Although not a musical, Burnt Fields is a play with music, most of which was written and composed by Jimmy. Changes to the script that were discussed by Jimmy and Kurt were completed prior to Jimmy's death. Jimmy asked Kurt to not let Burnt Fields be forgotten.
This production of Burnt Fields is being performed in honor and in memory of Jimmy Cliff George.
Kurt would like to see Burnt Fields adapted into a screenplay and see it turned into a film, truly fulfilling Jimmy's wish that Burnt Fields not be forgotten.
8 PM every Friday and Saturday
from March 21st through April 19th 2008.
Special Sunday Matinees
March 30, April 13, and April 20, 2008 at 4 PM