19th Season
Sappho In Love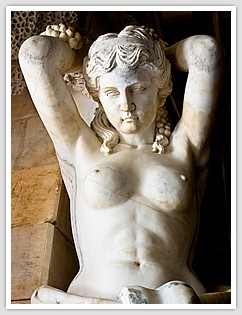 Photo © Dwight Smith | Dreamstime.com
Written by Carolyn Gage
Directed by: Courtney Parks
Sappho In Love is a riotous romp across the slippery terrain of Lesbian romance, as the goddesses on Olympus come down to earth to recruit among Sappho and her followers. Artemis, the Goddess of Lesbian Celibacy, and Hera, the Goddess of Coupledom, join forces to challenge Aphrodite, the Goddess of Love, for her hegemony on Lesbos. Sappho, the great poet and teacher on the island, is a devotee of Aphrodite, and because of this, her school has become a center for the cult of lesbian sexuality and romantic love. Artemis, denouncing Aphrodite's use of her intoxicating nectar to attract followers, vows to found a rival school on Lesbos where young girls will be weaned away from Sappho's decadent teachings to learn the more sober arts of wilderness survival.
But Artemis underestimates the power of lesbian seduction, when Aphrodite sends Persuasion, her handmaiden, to enroll in outdoor school - and when the Goddess of Celibacy finds herself entangled with the Slave of Desire, she discovers that freedom without intimacy can be as meaningless as intimacy without freedom.
8 PM every Friday and Saturday
from July 11th through August 9th, 2008.