A Special Event
Starlight and Song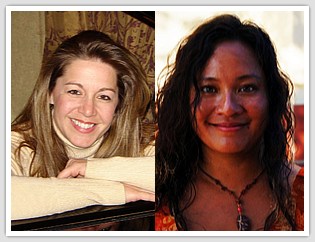 Starlight and Song
Christine Hooten & Roni Yadao
Saturday, February 23, 2008
Christine Hooten and Roni Yadao, two of Sacramento's favorite singers, are joining together for a one-night concert at 8 p.m. Saturday, February 23. The two will perform together for the first time in a special event fundraiser to benefit the Lambda Players.

Hooten has been entertaining audiences since she was a young girl, and has made many appearances with the Lambda Players as both an actor and a singer-songwriter. If you caught her most recent musical performance at the Lambda Players "Women, Wine, & Song" event last March, you already know how unforgettably beautiful her voice is. Join us as her whimsical lyrics and rich vocals combine to take the listener on an intimate journey.

Yadao's talent is no secret here in Sacramento - she has been entertaining audiences in high-energy club bands all her life, most recently with Roni & the Flight. Her new CD Better Part of Me showcases her passion for music in a big way. As a Singer-songwriter, Yadao has come into her own. Expect a unique musical journey ranging from driving rock to sultry vocal stylings.
Complimentary hors d'oeuvres & dessert, no host wine bar
Saturday, February 23, 2008
8:00 pm, doors open at 7:15 pm
Tickets $25.00 general admission
Sponsored by Camille Wojtasiak, Merrill Lynch