20th Season
As Bees in Honey Drown
Go to »
Cast Bios & Photos
/
Press Review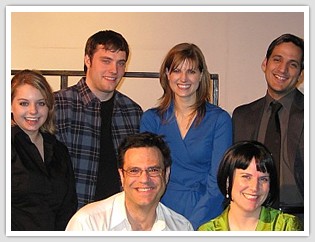 Written by Douglas Carter Beane
Directed by: Bob Cooner
As Bees in Honey Drown is a comedy about the quest for fame and stardom. But wanting the spot light is not as good as it seems. Eager painters, singers, musicians, business managers, and authors are displayed as trapped victims of many con artists who give them empty promises. The story centers on Evan Wyler, a hot new writer who has recently burst onto the New York literary scene. He falls head over heels for Alexa Vere de Vere: a glamorous, jet setting, mystery-cloaked woman at the top of the media biz and the celebrity A-list. But who is Alexa Vere de Vere really and what is her game? This thought provoking assessment of our image-over-substance society cuts to the quick as well as entertains. A regional premiere!
8 PM every Friday and Saturday
from March 13 through April 18, 2009.