20th Season
Cat on a Hot Tin Roof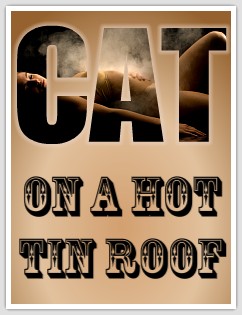 Written by Tennessee Williams
Directed by: Steve Buri
We're presenting Tennessee Williams definitive text of this American classic. Cat on a Hot Tin Roof first heated up Broadway in 1955 with its gothic American story of brothers vying for their dying father's inheritance amid a whirlwind of sexuality, untethered in the person of Maggie the Cat. The play also daringly showcased the burden of sexuality repressed in the agony of her husband, Brick Pollitt. In spite of the public controversy Cat on a Hot Tin Roof stirred up, it was awarded the Pulitzer Prize and the Drama Critics Circle Award for that year. Williams, as he so often did with his plays, rewrote Cat on a Hot Tin Roof for many years; the present version was originally produced at the American Shakespeare Festival in 1974 with all the changes that made Williams finally declare the text to be definitive, and was most recently produced on Broadway in the 2003-2004 season.
Thomas Lanier Williams III (March 26, 1911 - February 25, 1983), better known as Tennessee Williams, was a major American playwright who received many of the top theatrical awards. He moved to New Orleans in 1939 and changed his name to "Tennessee", the state of his father's birth. He won the Pulitzer Prize for Drama for A Streetcar Named Desire in 1948 and for Cat on a Hot Tin Roof in 1955. In addition, The Glass Menagerie (1945) and The Night of the Iguana (1961) received New York Drama Critics' Circle Awards. His 1952 play The Rose Tattoo received the Tony Award for best play.
Read his full biography. (PDF 36.3KB)
MARGARET - Angela Thompson
BRICK - Russ Marsh
MAE - Noemi Rios
GOOPER - Sean Williams
BIG MAMA - Cathy Rasmussen
BIG DADDY - Michael Flood
REVEREND TOOKER - Andy Anthony
DOCTOR BAUGH - Paul Fearn
SOOKEY - Claire Langton
LACEY - Arlon Carlson
DIXIE - Cheryl Thomas
TRIXIE - Heidi Delaney
BUSTER - John Garlock
SONNY - Julian Ortega
POLLY - Delores "Dolly" Delago

STAGE MANAGER- John Garlock
8 PM every Friday and Saturday
from Oct 17th through Nov 22nd, 2008.
photo of woman by Steven Kratochwill