20th Season
A Very Very Scary Scary Judy Judy Judy Christmas Special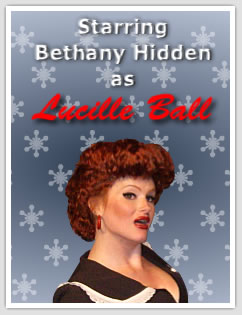 Written and Directed by:
Kurt Kurtis & C. Stephen Foster
Lucille Ball (Bethany Hidden) leads an all star cast in Lambda Players 2008 Christmas Special. Come and enjoy some classic Christmas songs, as well as some raunchy good fun! Lucy will be joined by many of her friends, and even some enemies. Get ready to laugh the night away and even sing along with Lucy and her famous guests.
We recommend keeping the kids home for this one!
Bethany Hidden - Lucille Ball
Brian Judd - Liza Minelli
Sonny Sorrels - Katherine Hepburn
Mahlon Hall - Jack Jones
Kurt Kurtis - Joey Luft
Jimmy - Desi Arnez
Heidi Delaney - Mama Cass
Tom Swanner - Mel Torme
David Stewart - Kenny Chesney
Chad Jayson Smith - Blake Winehouse
Gerald Perry - Pianist
Claire McKnight - makeup artist for Liza Minelli
Slava Bekker - Light Operator
Max the dog
8 PM Friday and Saturday
December 19th & 20th, 2008.