A Special Event
Under Their Influence: A Tribute to Judy, Barbra, and Bette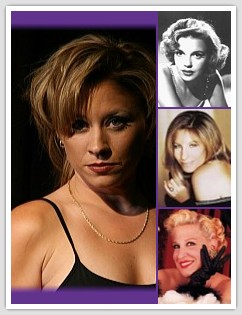 Starring Courtney Parks
Music Direction by: Paul Galloway
Sunday, October 26 at 7 PM
"Perfect pitch... Incredible control. Excellent phrasing... Parks has every tool in the professional singers tool belt." Doug Clark, The Spokesman Review, Spokane, Washington

"...she oozes with saucy, crowd captivating confidence that makes you think of Bette Midler in her prime" Doug Clark, The Spokesman Review, Spokane, Washington
Join Courtney Parks on a musical journey highlighting the careers of everyone's favorite divas Judy, Barbra and Bette. Under Their Influence will be more than a night of songs we've all heard a thousand times. It will be years of passion delivered in song. There will be no imitating or mimicking, only singing. One girl, one microphone, one piano and our favorite songs.
A note from Courtney Parks
Every so often in a lifetime, one has an opportunity to realize a dream. My name is Courtney Parks, some of you know me, some have heard stories and others of you have never heard my name. This show, Under Their Influence, is my dream come true. At a young age, when most of my friends were listening to Alanis Morrissette and Nirvana, I was in my room with Judy, Bette and Barbra. I sang along, I imitated, I mimicked and sang even louder. I guess it paid off. I started my Musical Theatre career as Dolly Levi in 'Hello, Dolly!' at the age of 16 at West Anchorage High School. I went onto play lead roles in various musicals, sing for politicians, sing in rock bands, blues bands and big bands. I have directed and produced plays from Alaska to Sacramento. Still, over ten years later I have still never performed the show I have always wanted to perform. This is that show. A tribute to the women who inspired me to follow my heart, find my passion, and stay on the yellow brick road. A Thank You to the three Divas who trained me in so many ways. I truly would not be here without these women. I would love for you, my family, my theatre family, my community, to join me for this night of dreams come true.
Tickets $16.50
$13.00 student/senior

7 PM Sunday, October 26, 2008.