20th Season
Sordid Lives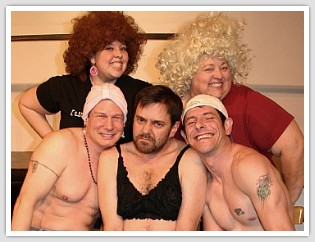 Written by Del Shores
Directed by: Matthew Burlingame
Celebrated playwright Del Shores penned this hilarious, Enquirer-style exposé of small-town Texas life after the accidental death of town matriarch Peggy Ingram. In the middle of a hot summer night, poor Peggy took her last breath in a seedy motel. It wasn't sex that did her in; it was her lover's wooden legs lying in the middle of the floor. She tripped over them and fatally butted heads with the motel room sink. Her lover? A very much married-with-children man.
Sometimes it takes a death to bring a family together. But not right away. Peggy's tragic death brings out the best, the worst, and the peculiar in her family and friends. Steely, social-climbing daughter Latrelle is determined to bury the truth of her mother's illicit affair, while trashy daughter LaVonda enlists the help of spurned spouse Noleta to seek revenge on the cheating husband. Their long-suffering sibling, Earl (a.k.a. Brother Boy, a.k.a. Tammy Wynette), is bent on escaping from Dr. Eve, his tormentor at the mental institution where he has been for 20 years, ever since his penchant for wigs and dresses became more than an obsession. Peggy's sister, Sissy, is trying to quit smoking while dealing with funeral arrangements and her nieces' battle over a mink stole (not who inherits it, but whether or not their momma is going to wear it to her grave). We meet Peggy's grandson, Ty, who is seeing his 27th therapist; her lover, G.W., who is inconsolably grief-stricken, and various and sundry low-lifes, drunks, and ex-cons.

Sordid Lives is one of six plays by Del Shores. First produced in 1996, it ran 13 sold-out months at its original home, the Zephyr Theatre in Los Angeles , receiving 13 Critic's Choice Awards and 14 Drama-Logue Theatre Awards. The Los Angeles Times wrote: "Sordid Lives has more laughs than a hunting dog has ticks. Del Shores is a master of Texas comedy."
In 1999, Shores wrote and directed the film version starring Delta Burke, Beau Bridges, Olivia Newton-John, Bonnie Bedelia, Leslie Jordan and Beth Grant. The movie has become a cult phenomenon akin to Rocky Horror Show. "The most delicious combination of emotion and laugh out loud hilarity to come along in the new Millennium... The Birdcage meets the Bible Belt – and the result is the most hilarious comedy of the year." The New York Times Syndicate
8 PM every Friday and Saturday
from May 8 through June 27, 2009.