21st Season
Paperclip Messiah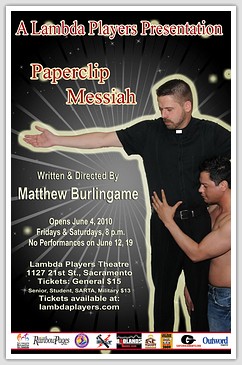 Written by Matthew Burlingame
Directed by: Matthew Burlingame

Paperclip Messiah is written and directed Lambda Players' favorite Matthew Burlingame, who is well known for his controversial, no-holds-barred writing. First produced in 2002 by Lambda Players, Paperclip Messiah delves into the hallowed halls of sexuality and morality inside a modern day Catholic Parish.
A handsome priest battles as hidden demons of his past become harder to fight as he hires a beautiful young man named Joel to work and live on the grounds. Unable to resist their mutual attraction, Father Patrick and Joel soon find themselves at the heart of scandal as they try to keep their passionate affair hidden from others in the parish. As their relationship deepens, the doors to Father Patrick's past begin to unlock, leading them both into a world of sex, secrets and sin.
A play like Paperclip Messiah cannot be easily categorized as it delivers romance, edgy comedy, social commentary and psychological thrills with no apologies for its unrelenting honesty, raw sexuality and haunting religious imagery.
Performances
Friday, June 4th at 8:00 pm
Saturday, June 5th at 8:00 pm
Sunday, June 6th at 2:00 pm
Thursday, June 10th at 8:00 pm
Friday, June 11th at 8:00 pm

Saturday, June 12th NO SHOW

Thursday, June 17th at 8:00 pm
Friday, June 18th at 8:00 pm

Saturday, June 19th NO SHOW

Sunday, June 20th at 2:00 pm
Friday, June 25th at 8:00 pm
Saturday, June 26th at 8:00 pm