21st Season
Six Women with Brain Death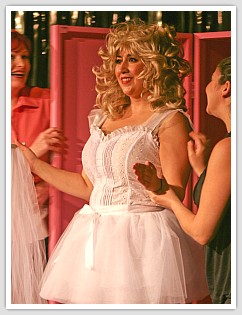 Directed by: Kitty Czarnecki

Original script written by:
CHERYL BENGE
CHRISTY BRANDT
ROSANNA COPPEDGE
VALERIE FAGAN
ROSS FREESE
MARK HOUSTON
SANDEE JOHNSON
PEGGY PHARR WILSON

Music and Lyrics by:
MARK HOUSTON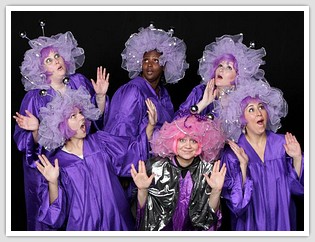 The Lambda Players are pleased to present a special Sacramento engagement of SIX WOMEN WITH BRAIN DEATH, or Expiring Minds Want to Know, as a tribute to Jackie Schultz, the former producer and owner of The Studio Theatre. This limited engagement will open on Friday August 14th for an twelve week run, playing Fri/Sat @ 8pm and Sun @ 2pm through November 1st at the Lambda Players Studio Theatre, 1028 R Street in downtown Sacramento.
SIX WOMEN WITH BRAIN was the longest running musical in Sacramento theatre history, playing at the Studio Theatre from 1996 to 2006. This special engagement is a tribute to the Studio Theatre's producer/director Jackie Schultz. The Lambda Players are also kicking off their capital campaign to make the Studio Theatre their permanent home.
SIX WOMEN is a fast-paced, take-no-prisoners satire of life and pop culture. It is a wild and very left-of-center view of the world from an entirely feminine standpoint. In a series of bizarre but hysterical songs and sketches, the authors explore TV soap operas, "genuine press-on nails," Barbie and Ken's secret fantasy life, divas, what "is" and "is not" feminine and other topics plus with an unforgettable detour through a forest where Bambi meets Rambo. Its music is infectious and the show is the longest running musical in Sacramento theatre history.
Producer Schultz's very public 12 year battle with severe Chronic Fatigue Syndrome has taken a serious turn in the last year. As a tribute to her long career in Sacramento regional theatre and her many, many contributions not only to the community but also to the Lambda Players group, the Lambda Players are honored to bring SIX WOMEN to the stage under the direction of Kitty Czarnecki and Jackie's theater dream will continue with Lambda Players at the helm.
8 PM every Friday and Saturday
from August 14th through November 1st, 2009
Matinees each Sunday at 2pm.