22nd Season
Celebrating Our Lives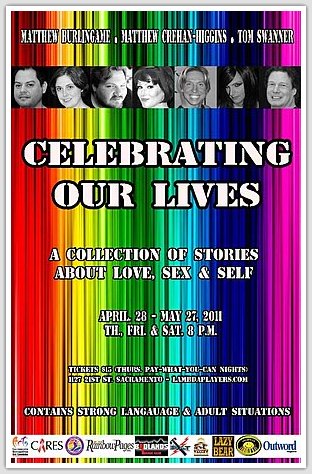 Writers include Tom Swanner, Matthew Burlingame, and Matthew Crehan-Higgins
Directed by: Matthew Burlingame

Lambda Players is proud to present Celebrating Our Lives, a collection of stories about Love, Sex and Self.
Writers Tom Swanner (Opening Lines, Countess Dracula), Matthew Burlingame (Recovery Mode, Paperclip Messiah) and Matthew Crehan-Higgins (Casual Sex Diaries) share a collection of comedic and dramatic stories, scenes and skits reflecting the lives of the Lesbian, gay, bisexual and transgender community.
From coming out to self-discovery, from sexual awakening to exploration, from first loves to heartbreak and everything in between, this production reflects our lives with unabashed realism and enduring hope. This show contains strong language and adult situations.
Starring Bethany Hidden-Cauley, Steve Lazano, Matthew Burlingame, Mahlon Hall, Tabitha Stout, Cimerron Spell, Violet Nichols
8 PM every Thursday, Friday and Saturday
from April 28th through May 7th 2011
Lambda Players would like to dedicate these performances in memory of George L. Barber.