22nd Season
Recovery Mode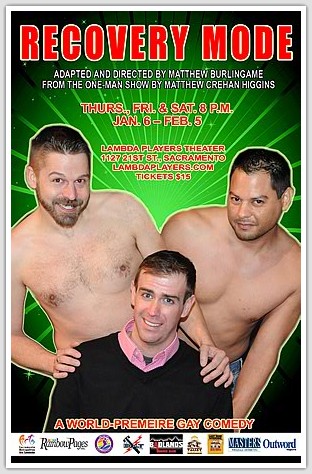 Adapted by Matthew Burlingame
Directed by: Matthew Burlingame

Matt and Tom had nothing in common but each other. An upwardly-mobile, out gay man and a deeply closeted blue-collar bisexual, the two tried to make it work. Matt enlists help from his zany therapist Susan, judgmental best friend Marc and other colorful characters in helping him work through the end of a highly dysfunctional relationship.
A comedy about getting over Mr. Wrong, Recovery Mode is based on the real life experiences of award-winning New York actor and playwright Matthew Crehan Higgins, the show has been adapted from its original one-man format into a full-cast, full-length stage play.
Read more about Matthew Crehan Higgins in this article
from the December issue of Outword Magazine.
8 PM every Thursday, Friday and Saturday
from Jan 6th through Feb 5th 2011