20th Season
Romance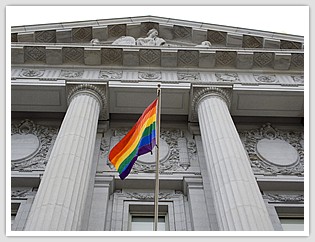 Image © Lindsay Noechel | Dreamstime.com
Written by David Mamet
Directed by: Kurt Kurtis
Warning: language and truly offensive opinions.
Pulitzer Prize—winning playwright David Mamet's Romance is an uproarious, take-no-prisoners courtroom comedy that gleefully lampoons everyone from lawyers and judges, to Arabs and Jews, to gays and chiropractors. It is a black farce in which a court case is continually interrupted by the personal obsessions and perversions of all the characters, including the judge, and by attempts to bring peace to the Middle East.
It's hay fever season, and in a courtroom a judge is popping antihistamines. He listens to the testimony of a Jewish chiropractor, who's a liar, according to his anti-Semitic defense attorney. The prosecutor, a homosexual, is having a domestic squabble with his lover, who shows up in court. And all the while, a Middle East peace conference is taking place. Masterfully wielding the argot of the courtroom, David Mamet creates a world in microcosm in which shameless fawning, petty prejudices, and sheer caprice hold sway, and the noble apparatus of law and order degenerates into riotous profanity.
Macho men onstage, each jockeying to become the alpha male. Dialogue that bursts like fitful gunfire. Language that tints the air blue. As the men shout and hiss and swear at each other, in the language of both the gutter and the law review, it is simply all-out, inexplicably entertaining.
"It made me weep with delight…ROMANCE is funny. Extremely funny." —Wall Street Journal.
"A wild ride…An outrageous, hectic comedy composed in the hyperliterate pro-fanity that made him a legend…For fans of Mamet at his most joyfully vicious, it's everything you ever wanted." —NY Magazine.
"An exhilarating spectacle…[Mamet] is a connoisseur of fiasco." —The New Yorker.
"A fiesta of forbidden laughter…A giddy, glorious, bad-taste valentine…" —NY Newsday.
David Mamet was born in Chicago in 1947. He studied at Goddard College in Vermont and at the Neighborhood Playhouse School of Theater in New York. He has taught at Goddard College, the Yale School of Drama, and New York University, and lectures at the Atlantic Theater Company, of which he is a founding member. He is the author of the plays The Cryptogram, Oleanna, Speed-the-Plow, Glengarry Glen Ross, American Buffalo, and Sexual Perversity in Chicago. He has also written screenplays for such films as House of Games and the Oscar-nominated The Verdict, as well as The Spanish Prisoner, The Winslow Boy, and Wag the Dog. His plays have won the Pulitzer Prize and the Obie Award.
8 PM every Friday and Saturday
from January 16th through Feb 28th, 2009
Sunday Matinee Feb 15th at 2pm.